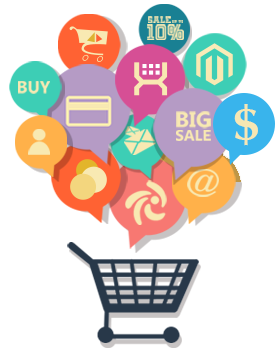 eCommerce has now become the most popular online place to buy and sell goods and services. It has fantastically enabled a variety of businesses, retailers and multi-channel merchants to exchange their services without the barrier of time and locations. Online stores offer competitive advantages to any business over its physical presence too. The right blend of online and offline stores can create a great success with robust eCommerce Web Development services.
We, at Maven Infosoft, as 11+ years experienced eCommerce website design & development company, offer the best online store creation services. Hiring our dedicated team of eCommerce designers & developers will include diverse eCommerce solutions such as website design, custom eCommerce extension & plug-in development as well as shopping cart solutions for small, medium and large level enterprises.
We believe in exceptional project delivery with cost-effective solutions and quality services! Our eCommerce services enable your business to grow substantially by taking full advantages of powerful digital marketing strategies. Business users get end-to-end control over the creation, management and publishing of product information, web content, promotion rules and campaign information!
Why Choose Us For Ecommerce Web Development
Our Ecommerce Website Development Services
eCommerce website design
We will guide you right from your web development cycle to an end-process, providing an ongoing support even beyond it. Our eCommerce experts will offer you with the preciseness of coding standards to achieve a higher website performance and scalability. We offer the tailor-made (customized) eCommerce modules to fulfill different needs of your business.
Custom eCommerce development
We will deliver out-of-box eCommerce services including customized eCommerce extensions, themes, plug-ins and other tools development. Be they various important modules like payment gateway, shipping method, pricing & promotion, product control, checkout, user experience, customer care etc.
Responsive online store
Make your eCommerce store purely mobile-friendly being accessible by users over smartphones and tablets. One can view the responsive online store according to different screen sizes and resolutions of such digital devices.
Shopping cart development
Apart from making dynamically designed online carts, we also ensure that the functionalities are flexible and easy-to-use for users. We always aim at improving user's shopping experience. We enhance various features such as innovative themes, multilingual support, various pricing features, checkout adaptation, shipping facilities etc.
Payment gateways and process
A secure electronic payment process is available for Internet merchants through a single, unified interface. Based on open standards-based technology, our plug-ins and add-ons easily integrate with payment service providers.
Product merchandising
Easily import & export all product data to add new products, make price changes or create a product data feed in minutes. Show off every angle of your products with thumbnails & full size images. Track inventory based on product options eliminating duplicate product pages. Create cross sells, up sells and kits to maximize revenue from product merchandising.
Category management
Getting the right product in front of your customer when they are ready to buy is critical. So our product lets you assign products to unlimited categories for easy navigation. Allow specific customer accounts access to restricted products for early bird offers, valued customer sales and reseller preview.
Ongoing support
Maven provides timely website maintenance & support to meet any-time needs. We handle website performance optimization, plugin & version upgrades, prioritized requests, resolving any bugs, customizing new features and everything eCommerce store management related. Our client's worry-free business environment is our key focus!
Extended sites
Our eCommerce systems enable you to create multiple, unique sites to serve different brands, regions or targeted groups of customers all on a single instance of the software.
Multi-channel merchants
We build an eCommerce store for catalog companies, retailers, wholesalers, manufacturers as well as distributors, who sell goods through centralized or highly connecting websites.
Customer Rating
:
Rated

4.9

out of

5.0

for

E-commerce Development across various IT verticals

by

2924

+ clients.