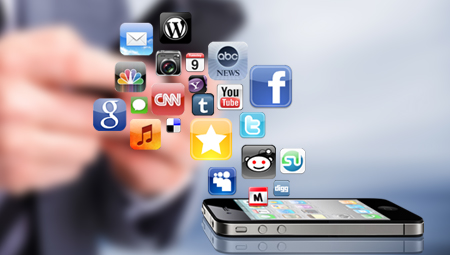 Mobile applications, known as mobile apps, are the types of software that are developed on different operating systems such as iOS (for iPhone/iPad), Android, Windows etc. The mobile apps will help the viewers to browse services that they are usually accessed from the computers/laptops. The mobile apps are made by the professional mobile app developers. The iPhone and iPad are the widely cherished mobile devices all over the world and hence iPhone apps have always experienced a huge rise in demand for development!
iPhone / iPad
A pioneering and feature-rich mobile presentation; the iOS, an operating system, creates both native and web applications for iPhone and iPad with programming languages such as HTML, CSS and JavaScript. The Apple Inc. manages functionalities of iPhone and iPad. Apps Store owned by Apple Inc. tremendously attributes high-standard applications along with the software development kits (SDK) in order to bring user's comfort, fun and enterprise solutions. Most developers have found its programing codes and classes too much convenient throughout its development, execution and maintenance. Its SDK & XCode IDE are well compatible with various wireless networks and web standards.
iPhone's/iPad's Applications
From offline mobile functioning to enriched web applications, iPhone's/iPad have everything you want on your mobile from personal to official perspectives. All native and web features they carry are excellent and prove the best platform for one to have the most organized use of such compact digital devices with pleasure.
Overall iPhone and iPad applications,
Enhances dynamic look & error-free functions of mobile screens & icons along with various web applications and their relevant tools
Offers functionalities such as designing buttons, page transfers, data management, address books
Offers facilities such as 3D multi-layered gaming, animated programs, audio/video enhancements
Customizes features like video capturing and media libraries
Helps in downloading web tools & applications such as video/audio/photos/TV programmes complying best with browsers
Assists in faster and smoother social media attachments
Offers communicative services including emails, text messengers and many more
Helps in displaying weather, traffic, navigation info
Offers customization of website extensions and features
Maven Infosoft (MIPL) is a leading iPhone app development company that has an iPhone/iPad Mobile Application Development Team of Developers and Designers to offer the following services:
iPhone/iPad Software Development
iPhone/iPad Native Application Development
iPhone/iPad Web Application Development
iPhone/iPad SDK & XCode IDE Development
iPhone/iPad Testing
Customized iPhone/iPad Apps Development
iPhone/iOS App Design and Development Services
Hiring Offshore iPhone App Designers and Developers
Redesigning Applications for IPhone/iPad Devices

Graphic Standards and Protocols