A right business model towards a start-off for any of your new venture is more likely favourable, considering what and how you are going to initiate it – definitely, along with a long-run target as awaited! A success to your business is rather accountable from sorts of priorities you seek for, setting up a strong working platforms established. How you define your client groups and where you want them to board is often your brilliance. An existing commercial era does seek a powerful merging from both online and offline marketplaces, optimizing all the resources available to their most!
With an advent of internet and pertinent e-activities, almost all businesspersons are now at a par to move to an online presence with a massive momentum. Dilemma is unavoidable; whether to go with online or offline platforms is a subject of great concerns. How much it would weigh echoing a successful delivery of any business is of wide thoughts that one would achieve through an understanding and familiarization with their objectives!
Demographic reach, so far as a spread of prospective venture is involved flourishing across various areas – is an important factor that does require careful attention and most importantly an accurate statistical study!
A Progress in INTERNET USE
For decades, there has been an ever hike, flaunting a practice of internet (varying country to country) in big multitudes. Continents across the world have witnessed a consistent increase in a number of internet consumers being added every year. Information and knowledge is now not a constraint unlike previous days where it was a domination of influencing market groups.
E-activities have become every-day lifestyles. They may range from informatively surfing the net for gathering necessary information, swapping shares of each other to performing online shopping (more commercially) – "The world has become compact and come closer with benefits and profits exchanged through now".
Source: Internet World Stats
List of Countries with Internet Usage (2014)
Source: Internet Live Stats
Ecommerce, escalating at ever high
With a majority of market shares being evident online at this instant, the visitors and consumers seem to have been chiefly diverting their ways to an internet including their various eCommerce actions. An online market share is largely attributed to such e-activities – such as purchasing online services/products, web interactions, payment options as well as huge arrays including B2B and B2C segments – unbalancing a market stake that an offline business was covered with earlier – probably with a certain upsurge.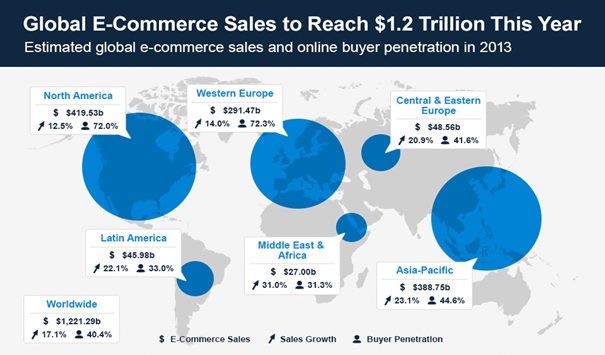 Source: eMarketer
A survey speaks a definite growth that a B2C eCommerce Sales is going to expect (starting from 2012, growing until 2017 and beyond). Such eCommerce sales may likely comprise ordering the products and services with leisure and unmanaged business travel sales retained over any internet through any of the digital devices, irrespective of payment methods and other shopping formalities involved online.

Source: eMarketer
Growth of Smartphones, Hiking with an Internet Use
Unsurprisingly, sorts of digital devices evolving in the market are more internet-centric. Consumers prefer internet connection to meet their day-by-day actions from entertaining purposes to official tasks. Similarly, eCommerce businesses have gathered much fondness from online surfers, mainly involving in practices of buying the products from compact devices like mobiles; in addition to computers and laptops, far more rapidly. A tendency of "shopping from anywhere, anytime" is a big win today – over smartphones!
With a majority of mobile consumers now dealing with eCommerce movements far more, almost all the online entrepreneurs have started realizing an importance of such small platforms, therefore optimizing such devices for relevant promotional conducts. A survey has well proven an increasing use of mobiles throughout the world; more or less in amounts, yet with a definite rise for time to come.
Source: StatCounter
Earn More Profits – Online
Online presence is surely a cost effective. Everything beginning from start-up costs to digital branding techniques is quite reasonable, very unlike (sometimes) physical marketing platforms. An eCommerce website is your real store, often not requiring a physical setup and eliminating needs for warehouse set-ups. Various stores (with an original product dealer) being connected with each other will enable website owners an opportunity to handle the product inventory through the warehouses that are others' possessions. Products are delivered directly to your customers being controlled under your directions.
Perform Massive Marketing Strategies – Online
Marketing would often mean to understand your customers and make long-run relationships with them, encouraging them to be your loyal clients. Contrary to conventional marketing methods used by many offline sources, the branding tactics that are used online – would rather give a businessman more chances to build a reputation with customers (rather than a direct approach, initially); it enables the visitors/viewers to better know who you are, slowly entailing them into your commercial activities as per your aims.
There are both paid and organic online marketing strategies, which will include search engine optimization, social media networking, PPC and others that are more demography-specific too. They help in "Reputation Management" beyond the borders. Your products go noticeable globally – you never know when your today's local product would become tomorrow's international brand; yes, of course with cleverly defined marketing campaigns.
A wide variety of promotional methods may involve email correspondences, blogs, articles (audio, video and texts; content marketing plans) and social media, being the most powerful tools to raise brand values and boost a sale.
More Accurate Analysis Performed – Online
Where your customers are coming from? What they purchase? What are the reasons behind their bounces off your websites? And a much lot! There are many queries you can well resolve – using some analytical tools that several search engines are provided with. You can probably know what your customers are looking for, where they are sourced and how you can catch them if being traced with efficient approaching means. E.g. Google Analytics is a sort of traffic-tracking tool that covers online movements of visitors (especially on your site), helping you make suitable (and most powerful) marketing goals accordingly.
Online versus Offline
Your commitment towards your business will count a lot, often assisting you to choose the best trading platform that comply your business. Something that gives you more freedom and security is truly welcomed!
Source: Marin Software/Forrester Consulting
As mentioned above, both offline and online presence (sometimes, a combined strategy too) does convey a strong message to your market targets, absolutely if being presented briskly. Otherwise, when it comes to weighing a success for any of your business, it would rather be more apparent if we fully understand the significance of both the platforms, mainly a one that enhances you a far rich customer reach together with the boundary-less business opportunities!